Chloe Kaven

INFO
FULL NAME
Chloe Kaven
NICKNAME(S)
Chlo (by everyone)
Snowflake (by Micah)
GENDER
Female
D.O.B.
1997
EYE COLOR
Blue
HAIR COLOR
Blonde (dyed Brown)
NETWORK
FAMILY
Unknown Brother
RELATIONSHIPS
Brad Craymer (ex-boyfriend)
JOB
Student
SCHOOL(S)
Clearwater High School
AFFILIATION(S)
Outreach
PRODUCTION
FIRST
Anything Could Happen (101)
EPISODE COUNT
82
PORTRAYER
Jennette McCurdy
Chloe Kaven
is a Senior (Grade 12) at
Clearwater High School
and is a recurring character in the series since the first season. She is very kindhearted, and would do anything to help her friends but also doesn't take crap from anyone and can be dramatic at times. She is best friends with
Gina Reynolds
and
Brittany Brith
and good friends with
Scott Taylor
. She is portrayed by Jennette McCurdy. 
Character History
Edit
Season 1
In Anything Could Happen, she approaches Scott and tells him she's there for him after she heard he's been lonely. 
In Fuckin' Perfect, she and Brittany are in the bathroom when Caylee runs in with the cupcakes and Chloe rushes Brittany out so Caylee can have privacy.
In This Is How I Disappear (1), she is eating lunch with Brittany and Scott when Brittany asks if her new friend, Harley, can join them. Chloe says she doesn't care and then goes to get lunch with Harley. After they get back, she is dumbfounded when Scott and Harley get together after just meeting, saying they don't wait around.
Season 4
Edit
Season 5
Edit
Season 6
Edit
Season 7
Edit
Appearances
Edit
Relationships
Edit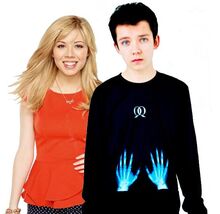 Main Article: Brad-Chloe Relationship
She is the second recurring character to get a plot. The others are Lauren, Tori, Lindsay, and Mary-Beth.
Despite only being a recurring character, she has appeared in more than half of the episodes of more than half of the seasons. She did this in seasons 1, 2, 4, and 6.
She has had a long time romance with Brad Craymer, although they never officially dated until over a year after they started going out.
"Hey, Scott!" (First Line)
"Friends will come Scott, you just have to be patient."